Pie in the Sky Farm
Inn, Retreat & Apartment
Marshfield, Vermont
Pie in the Sky Farm Inn, Retreat, & Apartment welcomes you to visit us and to stay for a while in our quiet, comfortable Civil War-era Greek Revival 18-room farmhouse on a traditional Vermont hill farm. You will experience a well-run small inn. Guest bedrooms, living rooms, kitchen, sunroom and entrances separate from the owners' quarters -- yet we are quite accessible whenever you need us.
Location
Pie-in-the-Sky is located in the middle of the rich environmental and cultural zone of North Central Vermont and perched just on the edge of Vermont's wild and beautiful Northeast Kingdom . Off the road just enough to experience real quiet and to hear the birds sing and the frogs croak, we're actually an easy-find -- only a mile and a third off northern New England's major east-west U.S. Route 2. We're 13 miles from the granite city of Barre , 14 miles from Vermont's capital, Montpelier , and about 20 miles from St. Johnsbury We are one of only two places to stay close to Cabot with its famous cheese creamery and near to the Groton State Forest with its numerous lakes and trails. Goddard College is just over the hill 10 minutes away.
as is the Marshfield School of Weaving
Facilities
All our rooms overlook the fields and gardens. Come stay by the week or for a few weeks. Use our facilities for a restful get-away or as a quiet retreat to work on your current project. You will have as your own space: full upstairs and downstairs six-room suite with separate entrance which includes three bedrooms, greatroom with woodstove, kitchen, two baths, plus a well-stocked library, & hot tub in greenhouse/sunroom.
Upon arrival, you will find your kitchen set up with starter breakfast items, and with a few snacks, and tea and coffee-making supplies for your own use at any time.
What to Do at Pie
Enjoy our spa and greenhouse while gazing out on beautiful views and many gardens. Take a short walk down our front hill to visit a large beaver meadow and bird sanctuary (where moose occasionally appear in the spring). Take walks back on the land to some of the secret corners: The old pond, the maple sugar bush, the Mushroom Woods, the blueberry patch, the open water of the beaver meadow. Depending on the season, help us out in the vegetable garden or orchard. Feed the sheep and ducks. Or, feel free to do absolutely nothing but read a book, enjoy the views and the quiet.
In winter season, you can go sledding, snow-shoeing or cross-country skiing on our 100-plus acres. A groomed snowmobile trail runs across part of our land. Or forge a trail off the beaten track in the woods or fields completely by yourself, in quiet so deep you can almost hear a snowflake drop.
Massage therapy
We can assist you in arranging ahead of your visit for a massage with one of the four highly qualified massage therapists in our neighborhood either here or at their studios.
Wireless Access
And if you feel you must work, bring your laptop: We have good WIFI throughout the inn
Meetings and Retreats
Inquiries about booking the use of our various spaces for small to medium-sized meetings are welcome. Pie in the Sky has hosted academic groups, funding foundations, massage therapists working retreats, and numerous individual retreats for rest, solitude, and focused creative work. We can arrange luncheon catering for your events.
We also do weddings!
We have been working with Windcall Institute and Common Council Foundation to provide retreats for long-time social change activists.
Fruit course breakfast in the sun room
by L. Miller
Sheep emerging from old barn at Pie
by Chris Racanelli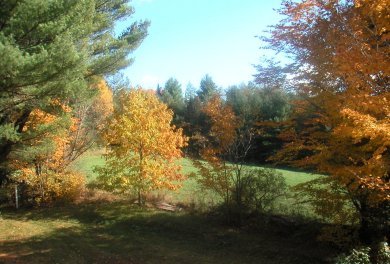 Chestnut tree along the driveway in late fall